Hà Giang is a province in northern Vietnam, bordering China. It's known for its forested limestone and granite mountains. The laid-back provincial capital, also called Hà Giang, sits on the Lô river. North of the capital, the Quản Bạ Valley has green hills and caves, and is the location of the Quản Bạ pass, also known as Heaven's Gate for its panoramic views over terraced rice fields below.
From Hanoi Capital to Ha Giang Loop : 310 km travel by bus
From Sapa to Ha Giang : 250km
Demographics
According to the General Statistics Office of the Government of Vietnam, the population of Hà Giang Province as of 2008 was 705,100 with a density of 89 people per km2 over a total land area of 7,945.8 km2 (3,067.9 sq mi) of the province. It is one of the least populated provinces in the northern midlands and mountain areas of Vietnam.] The male population during this period was 346,900 with females accounting for 358,200.The rural population was 625,500 against an urban population of 79,600 (about 12% of the rural population).
Many people in Hà Giang belong to various ethnic minorities. Aside from the Kinh, who form 10% of the total population of the province, there are 22 ethnic minorities, mainly the H'Mông, Tày, Dao, Nùng, and Lô Lô. There are two rare ethnic groups, Pupeo and Phula, with a population of less than 400 each and dwindling.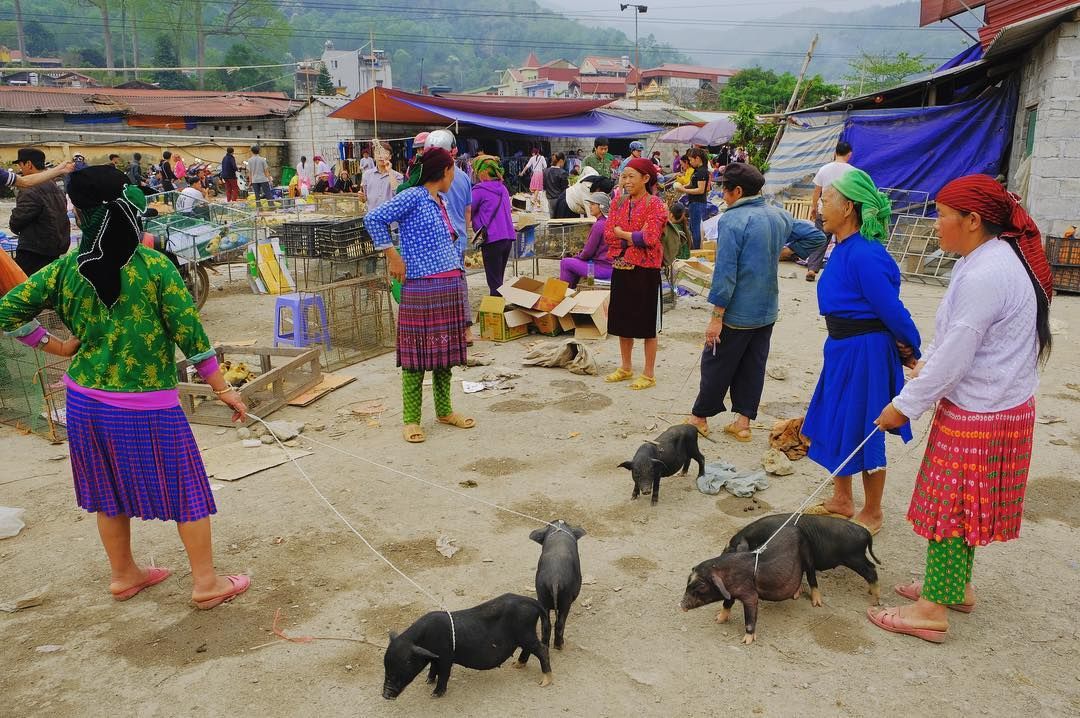 Economy
Hà Giang province is a highly mountainous region. Much of the province is too mountainous for agriculture, leaving much of the land covered by forests. Hà Giang's central plateau is good for growing plums, peaches, and persimmons, which the province exports. Tea is also grown.
Hà Giang is one of the poorest provinces of Vietnam. Traditionally, the vast majority of its economic activity revolved around agriculture and forestry, but in recent years, there have been attempts to establish a manufacturing industry. Infrastructure in Hà Giang has seen improvement, but remains poor – roads, schools, and health services are less developed than in many other parts of Vietnam. Since the designation of Dong Van Karst Plateau Geopark in 2010, the tourism industry has been growing.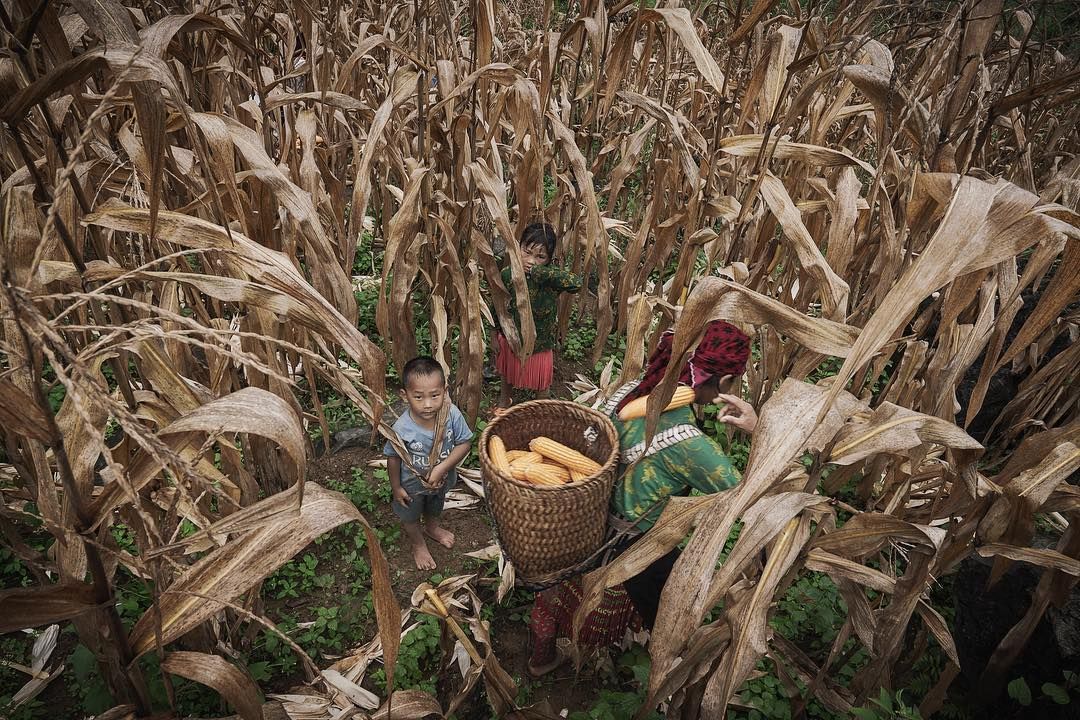 Attractions
Quản Bạ Valley
Quản Bạ Valley, located 45 kilometres (28 mi) from Hà Giang city, at 1,945.8 metres (6,384 ft), is called the "Heaven's Gate" and has a TV transmitter on a peak.
Phương Thiện Cave
Phương Thiện Cave is 7 kilometres (4.3 mi) to the south of Hà Giang city. It is the location of many sights, especially natural caves and grottos of Doi, Lang Lô and Phương Thiện.
Đồng Văn 
Đồng Văn is a market town 16 kilometres (9.9 mi) from Sà Phìn and 3 kilometres (1.9 mi) from the Chinese border and is inhabited by the Tày and H'Mông people. It is located at an altitude of 1,025 metres (3,363 ft) and experiences temperatures of 0 °C (32 °F) in winter and 24 °C (75 °F) in the summer months. The highland region is famous for fruits such as Hau plums, peaches and persimmons without seeds. It has plants such as ginseng, cinnamon and anise.[7][29]
Mèo Vạc
Mèo Vạc is a mountain pass at about 1,500 metres (4,900 ft) which forms the basin boundary of the Nho Quế River on the border with China and is restricted zone. The market, held at Khâu Vai which is about 20 kilometres (12 mi) from Mèo Vạc, is where once a year on the 27th day of the third month of the Lunar calendar an event known famously as the Khâu Vai "Love Market" takes place
Chợ tình Khâu Vai
The Chợ tình Khâu Vai market only meets once a year, on the 27th day of the third lunar month at Khâu Vai commune in Mèo Vạc district, based on an old folk tale. A long time ago, there was a young beautiful couple who were in love but they were in different districts, which would have meant that she would have moved to her husband's area.
Đồi Thông
Đồi Thông (Pine Hill) settlement is an ancient settlement dating back 30,000 years, belonging to the Sơn Vi period as established by archaeological excavations. The excavations had unearthed antiquity axe heads and primitive tools which are displayed in the local museum at Hà Giang and the History Museum in Hanoi.[3]
Hà Giang market
Hà Giang market is an important market centre in Hà Giang city on the east bank of the Lô River. Tày, Nùng, Red Dao and White H'Mông ethnic groups congregate every Sunday at the market.[3]
Lang Si
Lang Si is a village at the Lang Si pass where the White H'Mông tribes assemble at the market held once every six days. The village is 116 kilometres (72 mi) from Hà Giang and parts of the border wall built by the French army are seen here delimiting the border of the White H'Mông Kingdom. It is a honey-producing area and has many apiaries.[30]
Sà Phìn
Sà Phìn is a small town in the remote Sà Phìn valley (2 kilometres (1.2 mi) from the Chinese border) where H'Mông Lords ruled. The unique feature is of the large double storied houses which are built in Chinese style made out of yellow bricks with Chinese style roofs. The twin white towered palace building is distinct among the 20 odd buildings.[29]
Khu nhà Dòng họ Vương
The Vương family mansion is an architectural heritage landmark in Sà Phìn commune, Đồng Văn district that was listed by the government in 1993. At the start of the 20th century, Vương Chính Đức, a member of the H'Mông people, was appointed the Bang Tá and he had the family residence expanded into a mansion from where he worked.
source : wikipedia 2020