HA GIANG LOOP TOUR WITH EASY RIDER
If you're traveling in Vietnam and seeking an adventure of a lifetime, look no further than Ha Giang Loop Motorbike Tour with easy rider by Cheers Hostel, an all-inclusive three-day motorbike tour of the Ha Giang Loop in Vietnam's northernmost province. Ha Giang is known for its absolutely incredible mountain views, breathtaking natural scenery and the opportunity to experience authentic Vietnam hill-tribe culture all throughout the region.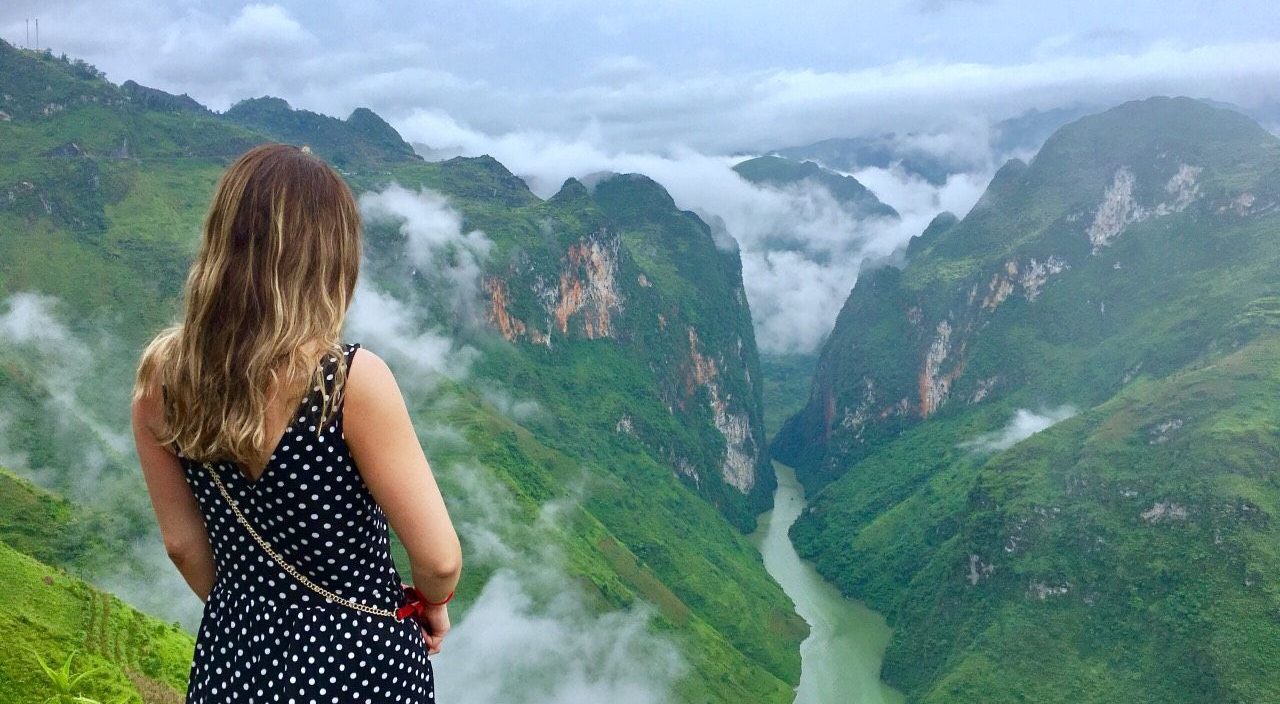 I also recommend booking this Ha Giang Loop tour with the easy rider experience because it allows you to truly soak in the awe of the views, without all the worry and exhaustion of driving yourself every single day along the way.
According to one TripAdvisor review of Ha Giang Epic Tour, "The guides/easy rider are professional and take you to see places like no other."
Ha Giang Loop Tour with easy rider 
(3 days – 3 nights)
Night 1: Hanoi – Ha Giang ( sleeper bus)
Get on a comfy Sleeper bus from Vietnam Cheers Hostel Hanoi to Ha Giang, then check in at Ha Giang Cheers Hostel in early morning around 3 AM for a nap and breakfast before your epic adventure begins.
DAY 1: Ha Giang city – Yen Minh town -dong van
( Highlight on Ha Giang loop: Heaven Gate -Bac Sum Pass-Tham Ma Pass- H'mong King Palace- )
We begin day 1 of the 3 day epic tour through Ha Giang. At 8:30am here you will get the chance to meet your guide and rider. The road leads you to Bac Sum Pass, up to Heaven Gate, this is some breathtaking views and tranquility. A perfect start to any morning. You will definitely experience rural Vietnam, you will see beautiful surrounding areas which include the twin mountains and the little town of Tam Son.we will then all gather for a very delicious lunch in Yen Minh Town, here we will take a short break and drive towards Dong Van, the area you pass through Chin Khoanh Pass. throughout this journey you'll see endless amounts of nature and Vietnam's beautiful surroundings. Dong Van Karst Plateau is a major geoheritage sight in Vietnam. The landscape is composed of unlimited rice fields, thousands of limestone rocks and breath-taking views. It also gives you the chance to experience the life of hill-tribe villages where local people work on the land this is a great opportunity to really get to know the locals and engage with their everyday life. From there we will visit Hmong King's Palace, a home of Vuong's family in Sa Phin. later that afternoon we will arrive in Dong Van here we will enjoy a local Vietnamese dinner and live music, karaoke after a long day of mind blowing landscape views. Sit back and relax. Tomorrow we do even more.
DAY 2: Dong Van town-ma pi leng pass- Nho Que river- du gia local village
On Day Two you'll make your way towards the highlight of the journey (and your entire Southeast Asia experience- trust me!) the Ma Pi Leng Pass. It is well known for its abrupt cliffs and breath-taking views, often referred to as the "king" of the passes in Vietnam with its highest point at an altitude of 2,000 meters. Kayaking on Nho Que River will be an absolutely unforgettable, one-of-a-kind experience. You'll trek the Sky Path to have a closer look at the whole valley and Nho Que river. From the top view, there is a picturesque 360° panorama of Ma Pi Leng Pass. We'll then continue to drive through the villages of Meo Vac, Mau Due and Lung Ho. In the afternoon, we pass through the epic mountainous to Du Gia Rural Homestay, located in the middle of gorgeous green rice fields. Don't forget to enjoy some "happy water" (local rice wine) with your new local friends!
DAY 3: Du gia-Lung Tam Village -ha giang – hanoi
( Highlight on Ha Giang Loop: Good morning nature – Swimming on waterfall-  Lung Tam village)
Day 3 of the adventure begins with breakfast, and a swim around Du Gia waterfall, in the afternoon we head to Ha Giang city. And begin to explore the many places such as  Lung Tam – This village is occupied by Hmong ethnic minorities, who are skillful  in traditional textile products, here you will learn how to create and weave material. We then travel to Quan Ba town and have a look at the most beautiful Nui Doi mountain. We continue are journey by crossing the Sky Gate, and travel by Bac Sum Pass and go back to Ha Giang late afternoon,
then at 4:30 PM a Comfort Limousine bus will take you back to Hanoi Oldquarter. You will arrive back at 11:30pm, we also provide one free night stay at Cheers Hostel.
How to book Ha Giang Loop Tour with easy rider: 
Questions? Ready to book? You can reach out directly via
Ha Giang Epic Tour run by Vietnam Cheers Hostel
Website:  hagianglooptours.com or email cheershostel1@gmail.com
You can come direct at Cheers hostel in Hanoi to book it ( add: 28 Nguyen Sieu, Hoan Kiem, Hanoi)
Hotine: +84 986 635 986 ( whatsApp 24/7)