Up to hit your next trip in Ha Giang Loop? You may concern about a Ha Giang travel permit that needs to be adhered to since 7  frontier districts of Ha Giang share the borderline with China. In this article, we will provide you with some useful piece of information about the permit and how to get it!
1. WHAT IS A HA GIANG TRAVEL FRONTIER PERMIT? IS IT NECESSARY?
First of all, foreigners are obliged to show the entry permit when travelling to 4 northern districts (Quan Ba, Yen Minh, Dong Van, Meo Vac) by the law. Providing you have no permit, your guesthouse owners could not let you stay since they hand in their guests' daily status to the government. Plus, the policeman would probably force you back to Ha Giang City and fine you if they check that you miss this permit on the loop.
2. WHERE TO GET THE PERMIT?
It sounds complicated at first but travellers can get that essential one easily at any immigration office of Ha Giang City or those 4 districts above. We highly recommend you get the permit right at the first point of the journey to get rid of any troubles you perhaps encounter. Below are the most favourite approaches.
Reach Immigration Office of Ha Giang City at No. 415A, Tran Phu Street (near Nguyen Thai Hoc Street)
Reach Meo Vac Police Station as you depart from Cao Bang Province for Ha Giang Loop
Contact Ha Giang Epic Tour in Hanoi or Ha Giang for registration of the permit.
Opening time from 8:00 AM to 4:00 PM every day (excludes Holidays). An hour break for lunch. Our tip is to get there early in the morning or afternoon, do not leave anything too late 😀
Show up at the office and request that you wish to sign up for the permit. Submitting your physical passport is required afterward. If it is not available, give them a photocopy of your passport with visa information. Make sure that all details are legit, including the reason why the passport cannot be with you (i.e, on the visa extension process, provide your bike registration plate number if you travel with a motorbike). After that, you fill out the permit card at the cost of $10 (equal to 230.000 VND). Soon, they hand your passport over as well as a brand new legal Ha Giang travel permit stated your basic information and allowed areas to enter, purpose and duration of the entry. Tada!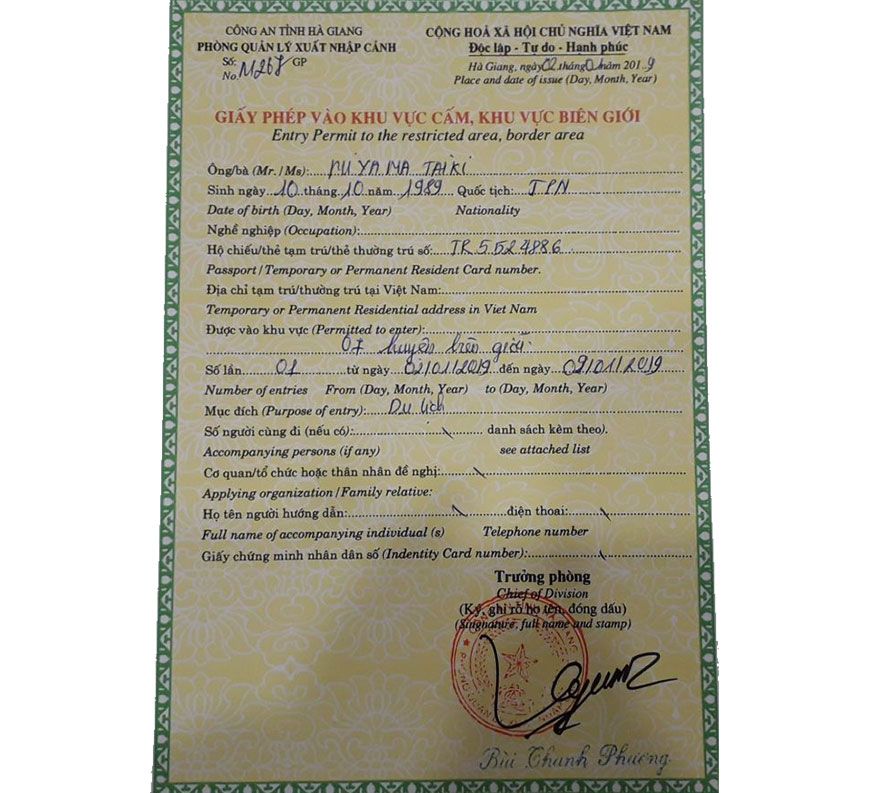 However, another way is much more simple. You may opt for contacting us. We will have this process done so you can just leisurely enjoy the excursion without any inconvenience. Any questions regarding of Ha Giang Loop Tour and the frontier permit in Ha Giang, please feel free to contact us via 084 883 0000 (Whatsapp/Zalo) or leave us some messages in the section below.