So you're planning to explore the mind-blowing scenery, hairpin turns and epic adventure that is the Ha Giang Loop? Awesome! But now you may be wondering what to bring with you to Ha Giang.
First of all, it's important to pack light since you'll be traveling by motorbike for a number of days. As such, bringing a smaller backpack or daypack is much more practical than taking all of your luggage. On the Ha Giang Epic Tour, you'll be able to store your luggage and whatever items you don't need to take with you at our hostel in Ha Giang town. This is where we both begin and complete the loop.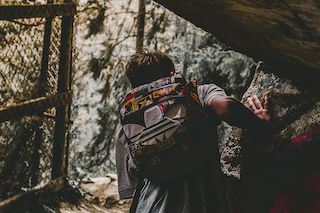 The clothing you should bring for the Ha Giang Loop will depend on the season, keeping in mind that in the winter months of later November to March it can get quite frigid, especially at higher altitudes or certain areas in Ha Giang province. As such, layers are crucial! In one day, you may go from needing full winter wear to feeling comfortable in a t-shirt. 
During the warm summer months, you should at the very least bring a windbreaker in case you catch a chill while on the motorbike or as the sun begins to set.
Check out this comprehensive guide to the seasons in Ha Giang if you'd like to learn more about the weather during your tour.
So what should you actually pack with you on your Ha Giang journey? Below is our suggested packing list for the Ha Giang Loop.
Ha Giang Loop Packing List
Smaller backpack to carry all your belongings

3 days change of clothes, keeping in mind they may get a bit dirty!

Heavy jacket if traveling during Winter season – November to March

Light-to-medium weight jacket during other months (such as a windbreaker)

Winter wear – gloves, scarf, face mask – between November-March 

Swimwear for waterfall and kayaking

Towel for waterfall and kayaking

Closed-toed shoes such as boots or trainers

Medication and toiletries

Any necessary medication

Camera or GoPro

Sunglasses

Sunscreen and mosquito repellent

Cash for purchasing snacks or souvenirs
Ready to book your Ha Giang Epic Tour? Book through Cheers Hostel.